Transformative GPCR Approach for Tomorrow's Cancer Immunotherapies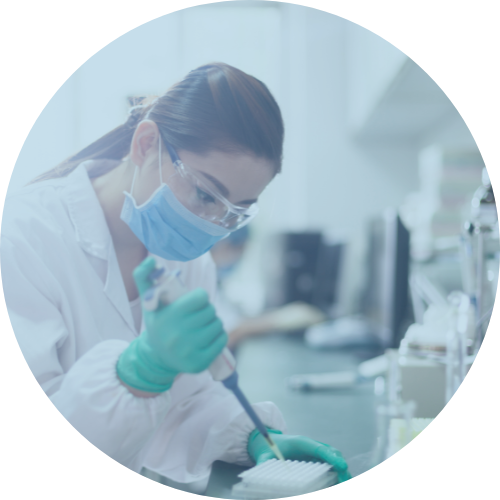 G-protein-coupled receptors (GPCRs) are the most commonly utilized target in today's treatment paradigm with more than 700 approved therapies, however, their potential in immuno-oncology has yet to be realized. GPCRs control a broad range of cellular processes vital to the formation and progression of tumors. GPCRs' role in modulating both tumor-generating signal transduction pathways as well as interactions with immune system defense mechanisms opens the door to more novel GPCR-directed therapies aimed at the tumor microenvironment.
Targeting Unexploited Metabolic Pathways in the Tumor Microenvironment to Restore Anti-Tumor Immunity
The immunosuppressive state of the tumor microenvironment (TME) is directed by the metabolic activity of cancer cells. Rapidly proliferating cancer cells require high levels of energy and other key metabolites. Metabolic reprogramming is the key driver for cancer survival under hypoxia, stress and limited nutrient availability.
Our focus is to develop highly selective and potent antagonists in the glucose, lipid and adenosine pathways to restore anti-tumor immunity and directly halt tumor cell growth.
Cannabinoid Receptors: Regulates Inflammation and Immune Response
Novel Immune Response Modifier Selectively Targeting Cannabinoid CB2 Receptor
The cannabinoid CB2 receptor is a peripheral receptor found predominantly in the immune system and regulates inflammation and the immune response. Elevated CB2 receptor expression is associated with worse overall patient survival[1-5] and aggressiveness of cancer. [6,7]
Our novel, oral, small molecule antagonist, TT-816, enhances innate and adaptive immunity; synergizes antitumor effect with current novel immune response modifiers and directly promotes immune cell penetration into solid tumors.

This could overcome one of the most important resistance pathways and provide new options for patients."
– Expert Oncologist
Adenosine: Suppresses Immune Cells and Promotes Cancer Cell Proliferation in the Tumor Microenvironment (TME)
First-in-Class A2B Selective Adenosine Receptor Antagonist
The A2B receptor is overexpressed on various types of tumor cells and immune cells. A2B receptor expression and activation are regulated by hypoxia in the TME which promotes tumor growth and causes immune suppression by inhibiting the activity of essential immune cells. Inhibiting A2B receptor prevents cancer cell proliferation in many solid tumor types including prostate and breast cancers.[8-12]
Our first-in-class candidate, TT-702, works by fighting cancer's 'cloaking' strategy and exposing it to the immune system so it can be destroyed.

TT-702 has a unique mechanism of action, and the inhibition of both hot and cold tumor growth would be transformative."
– Expert Oncologist
Teon's rich pipeline targets unexploited metabolic pathways backed by well-validated science and a track record developing first- and best-in-class GPCR-directed therapies.